Popular Windmills - Countries Famous for Windmills
Europe
Austria – Podersdorf am See and Retz (all tower mills)
Belarus – Several windmills operated by State Museum of Folk Architecture and Life (Post and Smock)
Belgium – Home to the hundred mills, including 19th century mills of Le Vieux Molen, Moulin Bertrand, Moulin du Château, Molen de Stud, Moulin Massinon, Moulin de Tiège, Moulin Gustot and many others. Oldest windmills in Belgiuym are Moulin d'Hondzocht and Molen van Hondzocht built in 1775.
Bulgaria – This country has several Tower and Post windmills in the city of Nesebar.
Denmark – Windmills of all types can be found all around in Denmark and its islands, with designs that reach all the way back to early 17th century. Some of the most famous ones are Majbølle Mølle, Kastellet Mølle, Kloster Mølle, Højer Mølle and Lumby Mølle.
Estonia – This European country has rich history of windmill building, most famously on the windmill hill in Saaremaa where 9 still active mills can be found.
Finland – Finland houses large amount of windmills. They can be found on Åland Islands, Konnevesi, Loviisa, Samppalinna, Vaala and Vuonna.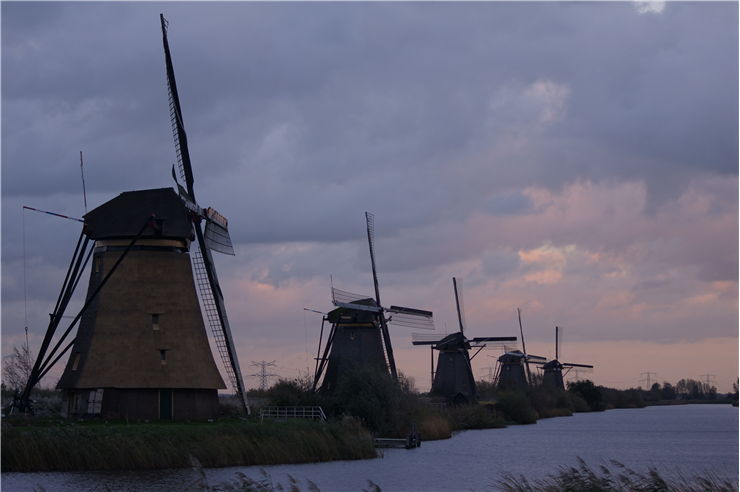 France – Almost every region in France houses at least one windmill, making the selection of the most famous one very hard. Only in the region of the Paris you can find and visit windmills of Ivry-sur-Seine, Longchamp, Montmartre, Montparnasse cemetery, and few others.
Hungary – Hungarian windmills are mostly made as large Tower mills, and can be found in Kengyel, Szegvár, Szentendre, Szentes Dónát and Tés.
Ireland – Ireland is the home of over 30 windmills that can be found in the counties of Down, Dublin, Kerry, Kilkenny, Derry, Louth, Meath, Monaghan, Offaly, Roscommon, Waterford and Wexford.
Italy - Most famous traditional tower windmills of Italy can be found in Marsala, Mozia, Trapani and Orbetello.
Lithuania – Lithania is a home of several tower and smock windmills. They can be found in the cities of Baltoji, Darbėnai, Obeliai, Šeduva, Šiauliai, Stultiškiai and Telšiai.
Netherlands – Home of the modern European movement of windmill-building. Most famous groupings of mills in this country are located in Kinderdijk, Schiedam and Zaanse Schans.
Romania – Romanian windmills can be found in the Village Museum and Museum of the Romanian Peasant in Bucharest.
Russia – Russia has built many windmills, most notably New Jerusalem Monastery Mill in Istra, Mari Ethnographic Museum mill in Kozmodemyansk, four mills in Tobolsk, and large post windmill in Volgograd.
Spain – Spain has too many windmills to be counted, but some of the most famous ones are Mills of Es Jonquet, Windmills in Campo de Criptana, Campo de Cartagena, and group of tower mills in Consuegra.
United Kingdom – UK is a home to hundreds and hundreds of windmill, some that were even made over 400 years ago. Most famous ones are Clayton Jack and Jill, Whissendine Tower-mill, Chesterton windmill, Belloc's Windmill and Brill Windmill.
Asia, Africa, Australia
Japan - Japan is the home of the several well preserved windimlls who are made either in smock or tower style. They can be found in Kamiyūbetsu, Kita, Sakura, Shodoshima and Gunma Prefecture.
Australia – Most windmills in Australia are of the tower style, with most of them being made during 19th century. Many can be found in Darlinghurst, Brisbane, Perth and Sydney.
New Zealand – New Zealand town of Foxton is the home of the Smock-type windmill called De Molen that was built in 2003.
South Africa – This African country has built many windmills, with many of the being located around Cape Town (Onze Molen, Nieuwe Molen, Mostert's Mill), Bathurst and Grahamstown.
Americas
USA – Majority of windmills in United States were not used for grinding grains but as water pumps. However, large amount of traditional Tower and Smock windmills were created in the last 200 years. Most famous are Murphy Mill and Dutch Mill from San Francisco, Robertson Mill in Indiana, Danish Mill and Vermeer Mill in Iowa, Old Dutch Mill in Kansas, De Zwaan in Michigan, Seppman Mill in Minnesota, Bevo Mill in Missouri and many others.
Canada – Canada is home of dozens of old historic and newly built windmills. Majority of htem is built in Quebeckj, including Moulin Bourg in Bécancour, Moulin Desgagnés in Île aux Coudres, Moulin de Pointe-aux-Trembles, Pointe-du-Moulin, Pointe-Claire Windmill, Moulin Grenier, and Moulin Banal.
Brazil – Most famous windmills in brazil are all made in Smock style. They are located in Arapoti, Carambei, Paraná and Uberlândia.